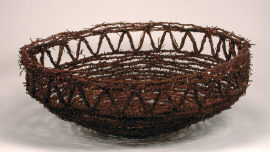 Brass Basket No. 15
Brass sheet, copper stranded wire, patina. 5" diameter x 4 1/2" h
Brass sheet is cut into 1/2 wide strips, textured with a hammer and rolled into a coil. This material is used to create the basket. Our "twist-tie" cold construction technique is used to create the form.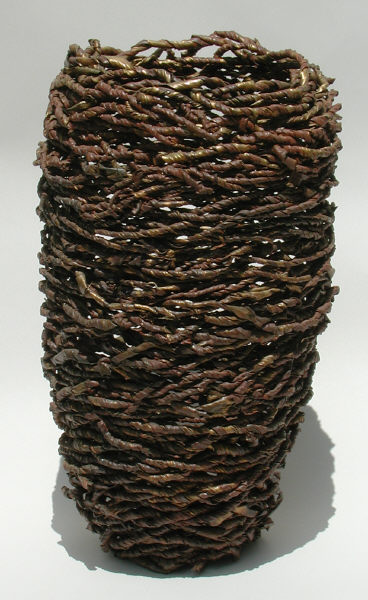 Autumn Basket One-of-a-kind
Steel Chicken wire, copper wire and sheet, patina. 11" w x 8" h x 6" d.
The basket is cold constructed in chicken wire. Copper wire vines are attached to the exteriorof the basket. The leaves on the interior are hand cut from copper sheet, textured, chased and patinaed.
Our favorite season is autumn. The image of harvest baskets at a fall festival was the inspiration for this piece.
Brass Basket No. 17

Brass sheet, copper wire, and patina. 7" diameter x 6" high
Cold connection construction technique.
Collection of Peter Syak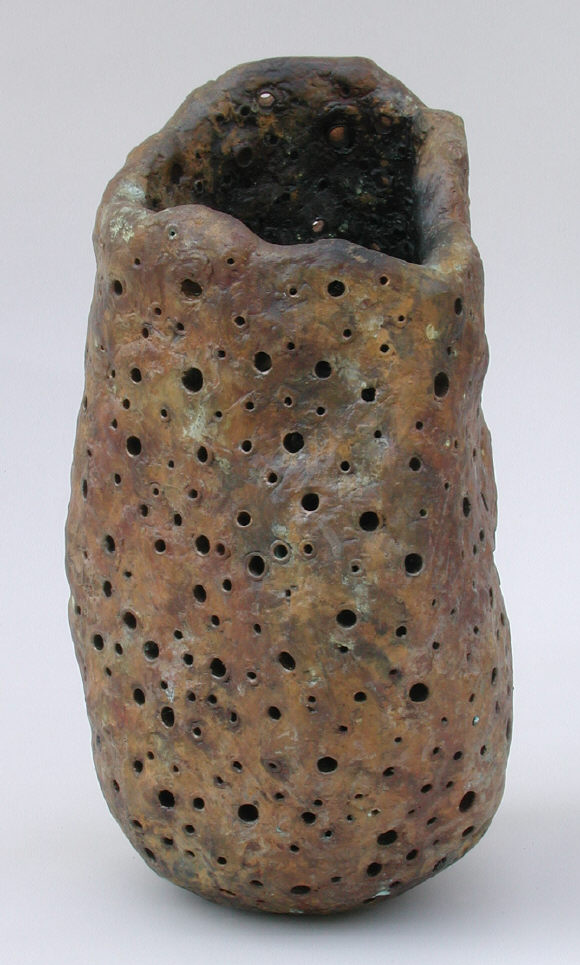 Timeline Series: Personal History
Copper elecrtical wire. 6" diameter x 7 1/2" h
A core wire is wrapped with stranded copper wire. This material is then joined together using our "twist-tie" method. Each place the wire strand is joined with the previous row, a knot is formed. The twist-tie serves as both a functional method of construction and a decorative element as well.
The Timeline series developed from a discussion with our son about history. I drew a line with dots on it to illustrate the secquence of events that have occurred in our lives. I transulated the line and dot element into wire, creating the basket, adding the french knot detail to give reference to our interest in fiberarts.
Trap Series: No. 9
Steel wire, copper, brass, and patina. 15" diameter x 14" h
Inspired by the forms of lobster traps and eel pots. A "net" structure was created and brass and copper sheet and wire was interwoven thru the steel to form the basket. A copper ring supports the opening and gives further reference to fishing traps.
Mark worked as a commercial fisherman, clamming and lobstering off the shores of Oyster Bay, Long Island when this piece was created. The activities of trapping and harvesting from the sea greatly influenced our work at the time.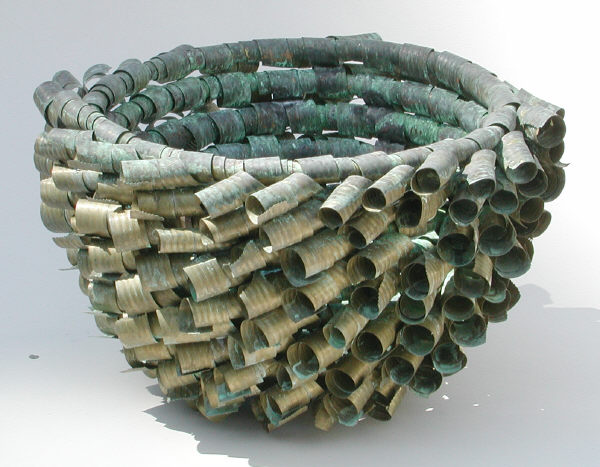 Vessel No. 4 One-of-a-kind
Copper, porcelain, enamel, patina. 4" diameter x 5"h
This vessel was constructed out of thin gauge copper sheet. Portions of the exterior were enameled by hand using a torch. Porcelain slip was applied and racu fired onto the surface of the copper. The piece was finished using various patinas on the interior and exterior surfaces.
Collection of Gabriel Deleon, Jr.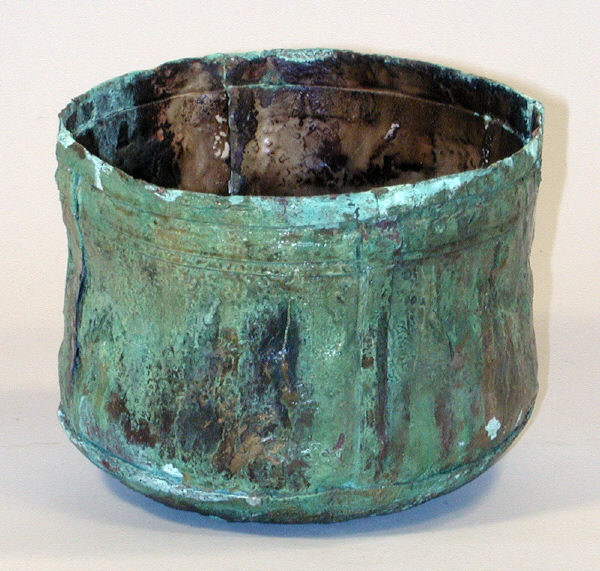 Patchwork Vessel
Copper, enamel, and patina. 17" l x 15" h x 9" w
Individual pieces of copper sheet are cut and lock-seamed together to form the patchwork pattern. The vessel is created from this sheet. Enamel is torched fired onto the surface after the vessel is constructed.